I finally found the perfect song for them.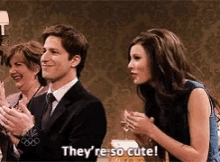 This is from season 1, episode 14: "Ranger Jarod." He meets a woman named Nia and is just instantly so infatuated with her. Of course, they eventually hook up and she takes his virginity. But then he has to leave again because The Centre tracks him down.
They are super cute… in a "puppy love" kind of way in Jarod's case but I've said it before and I'll say it again. I really think their connection stems mostly from their shared pain. Yes, there's obviously a physical attraction there and they laugh a lot together…but they also both come from incredibly tragic backgrounds which they bond over.
It's btw possible that I overdid the forest theme on the frame, but come on… he's impersonating a ranger, they're in the woods. You see how that works, right? It all fits.
The tune is "Start of Something Good" by Daughtry.
My other Pretender videos:
Jarod & Sydney: Love Comes Back Around
Jarod & Miss Parker: I Still Feel You
Jarod & Zoe : Helpless When She Smiles